When Date Night Was In Our Garage
Our Beginning … the Adams & Co. Story
As a designer, I often get asked what inspires me. I'd have to say, my favorite quote sums it all up:
"I am going to make everything around me beautiful – that will be my life." ― Elsie de Wolfe
OUR STORY BEGINS
In 2002, we were invited to be part of a local craft fair in Santa Clara, Utah, at the annual Swiss Days event held every September.
We like to say our Adams & Co. story started with a 62-cent 2" x 4". Because it did—a warped 2" x 4" cut into little wood blocks and signs we painted! From there, the A&C dream was born!
At the time, DJ was selling life insurance and I was a medical transcriptionist working from home in our starter home in Santa Clara, Utah, with our two little girls (ages 6 and under 1). We wanted/needed to earn a little extra money and thought it would be a great creative outlet so decided to sign up.
We didn't have a saw—so, shout out to Lowe's Home Improvement—they were nice enough to cut the 2" x 4" into blocks for us. For the next couple weeks, we spent every evening (I like to think of them as our "date nights") in the garage.
DJ would sand and paint while I would apply our homemade stencils. After this first craft fair was over that fall, we realized we worked well together, and maybe, just maybe we could do this home décor thing.
Here are pics from the early days—getting ready to haul décor and a snapshot of one of our early craft show booths (DJ looks so cute, huh?).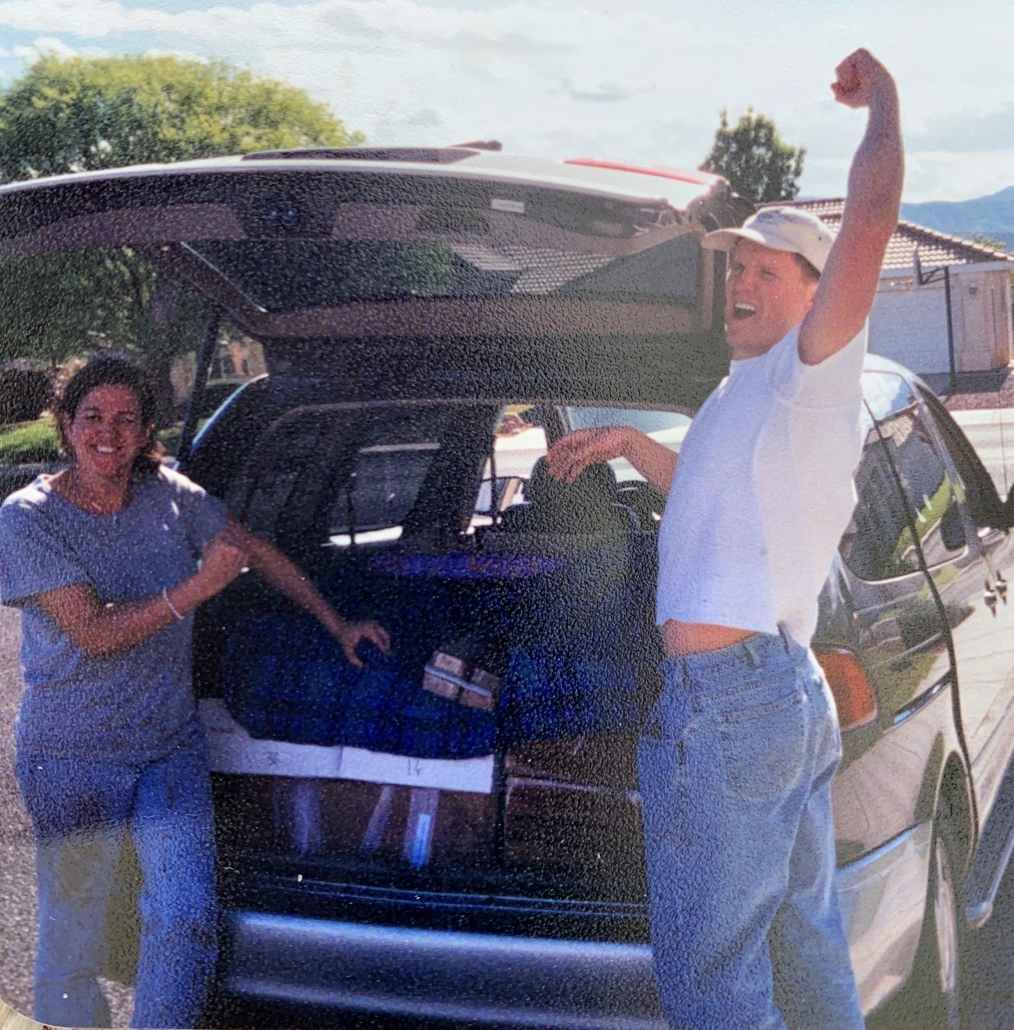 We started in 2002, and the journey has been amazing ever since. We've learned so much, made plenty of mistakes, and overcome a lot.
Through it all DJ and I have been so fortunate to be working with our best friends every day—and to come to know and love so many retailers across the country that we love dearly.
Today, still, DJ & I still have many "date nights" (aka business meetings), typically while we are traveling or in our A&C showrooms—which have become our home away from home in Atlanta and Las Vegas.
If you're curious, here's more of our story …
https://www.instagram.com/tv/B-d4yrMH2vb/?igshid=abrvjlbugucb
WHAT'S YOUR STORY?
I'd love to hear a little of your story, maybe how you started something amazing of your own? It could be a hobby, a business, or a new habit—leave it in the Comments so we can all share with each other! I would love to get to know you.
Make sure to sign up for emails so you don't miss a thing. And you can follow all our work/life antics on Instagram and YouTube. (Links at the top of the blog.)